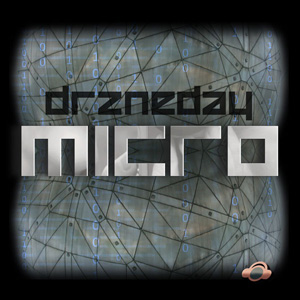 Drzneday is a young Dj and producer from Sarajevo with previous releases on Beatport for Replic8 Recordings and Futura Records. He plays some really good techno, is a very good friend and so we welcome his first solo release on Eclectic (he also had a previous release with us together with Koketron and Aliassin).
The tune Micro is a strong techno tune with an interesting hypnotic synth melody, Blake has taken care of a slower tech-house remix adding a cool warm bass and some cool drum sounds.
Previews
Drzneday - Micro Blake Heart Mix (preview)
Drzneday - Micro Original Mix (preview)
Buy it on:

Feedbacks:
Randy Coggins (Morris, United States)
Rockin RC / , Strictly Dance Radio, Rockin RC
Rating 10
will play …
Sherwin Charles / Peter Lewis (Brooklyn, United States)
DJ Fresh / Brooklyn DJ Factory, Scene, Niketalk Magazine
Rating 10
love this track
Benjamin Yee (Alameda, United States)
DJ Kahuna / , Terracotte / EZ5 / Lookout
Rating 6
riveting and enticing bass that excite
Maurizio Santi (Gonnosfanadiga, Italy)
Maurizio Santi /Dee Jay Santi / Promotionalrecord, Radio Mela / Modena Radio City / Radio Mela
Rating 8
I like this and will play it out in my shows.
Simone Liuni (Biella, Italy)
/ , Spritz Cafe
Rating 8
Wondeful Track! Dope Track! Ready For TONIGHT! I'll play it very soon!!
Riccardo Fazzini (Roma, Italy)
/ , Club Generation Radio
Rating 8
Bel pezzo techno minimal.
Derek Harri (Thunder Bay, Canada)
DJ DiRRty HaRRi / Sonic Music Prod, Tony & Adam's / 2 Tone Music
Rating 6
It's okay, I will look to play it soon.
Paul Judd (Bournemouth, United Kingdom)
Dxd / , Audiobunker, Househeads
Rating 8
wicked Tech house track, excellent mix on this
Yiannis Athanasiou (Dubai, United Arab Emirates)
Jayworx / , Embassy Club Dubai
Rating 8
cool strong stuff
Rich Mair (Weston, United States)
djrichnitemare / , globaledmradio.com / WDMN-101
Rating 8
Poppin Track)))
Riccardo Rostellato (piove di Sacco, Italy)
Riccardo Rostellato / Studiopadova, Club disco dance
Rating 8
Good very good
Roberto Strazzeri (Merano, Italy)
Rdee / , Hexen
Rating 8
a good track
Stefano Vaglio (Paderno D'Adda, Italy)
Rating 10