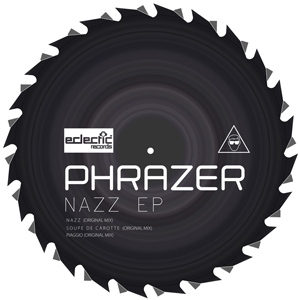 Phrazer is a new up and coming dj and producer from Newport, UK. He delivers 3 solid tech-house tunes on Eclectic headed by Nazz, a strong floorfiller characterized by a cool mad-driving sequencer. The release is completed by Piaggio (we love the name too!!!) and Soup De Carotte, a warm and atmospheric tune. Both confirm the quality and originality of this producer.
Previews
Buy it on:

Feedbacks:
DON RIMINI
nazz is cool
Coin Operated Boy
Great set of tracks all round really! Soup De Carotte is the pick of the bunch for me personally, really nice melodies and the production is lush. Nazz will probably find it's way into my heavier sets too, very funky!
Grant Paterson
D.I.R.T.Y spells trouble on the dance floor! Great tune (NAZZ), energy packed party banger that's likely to tear it up big time! Again, Piaggio, big bouncy stuff and the more head music in the form of Soupe De Carotte… A big EP with thrill, spills, and plenty more besides…great work!
Mike King
ll tracks are great!
DJ Chad E
Very Tech House oriented, but I'll go with charts
DJ DiRRty HaRRi
great track, solid beats !
lucymasterdj
very sound good
DJ Pasqua
very dirty tune !!!!
DJ Ace
Good warm up track
DJ Wayno
ove thuis house!!
wisqo
Piaggio / Soupe De carotte is very good, my style, will support defo.
D Ferdez
Niceeee! love it!
Terence Ladusch
Sehr schöne Tracks,
3 verschiedene Stiele, die mich alle ansprechen.
Sehr schöne E.P.
weiter so
Larry BAAAAM!
Piaggio is nice, like it! could be played in my sets!
J.L.D
So glad steve has been signed up, his stuff is pure class, Soupe De Carotte is definately one of the best tunes i've heard in a long time, from anyone, top stuff, looking forward to hearing much more from him!