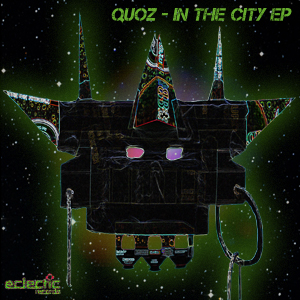 This is the second release by our new misterious producer Quoz. A mature journey into his way of making dubstep / electronica. Two tunes and lots of different elements, from a soul break with some great vocals (sampled from Blake?s first ever tune on vinyl Wild Thing) to some spooky electronic atmospheres with a 90′ flavour.
Previews
Buy it on:

Feedbacks:
Michael Stewart (Trenton, United States)
SMX/Stewmonte X / Black Cat Productions, Pudgy's
DJ Quote/Comment Jojojojojo Stew Dub-Play
Ben Vidmar (Longyearbyen, Norway)
Sprock3t / , Huset
Reaction Good
Wayne Murray (Revelstoke, Canada)
DJ Wayno / Avid Productions, River City Pub
DJ Quote/Comment more dub the better!!
Anthony Gelo (Ozone Park, United States)
Anthony Gelo / DJ Anthony Gelo, Bar None / SideTracks
Reaction Good
Derek Harri (Thunder Bay, Canada)
DJ DiRRty HaRRi / Sonic Music Prod, 2 Tone Music / Tony & Adam\'s
DJ Quote/Comment solid track, great beats !
Michael Maltais (Lachine, Canada)
Castiel / , Fuchsia NightClub
DJ Quote/Comment je vais la jouer
Sherwin Charles (Brooklyn, United States)
DJ Fresh / Brooklyn DJ Factory, Scene, Niketalk Magazine
DJ Quote/Comment cool
Maurizio Santi (Gonnosfanadiga, Italy)
Maurizio Santi /Dee Jay Santi / Promotionalrecord, Modena Radio City / Radio Mela
DJ Quote/Comment ok
Dj Monsta (ronkonkoma, United States)
Monsta / Music Choice, KXRG 95.9 FM / Music Choice / 1Dance.FM / EnergyRadioUSA.com / PArtyRadioUSA.Net, Guest Spot regularly, Monsta / Blender
DJ Quote/Comment I will pass this mix onto the stations I work with.
Stefano Amalfi (Reggio Emilia, Italy)
Sound Division / Molto Recordings
DJ Quote/Comment Full support!